What you gonna do when you catch one.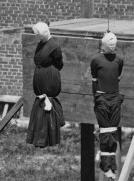 Make him a deal to rat on another,  slap
his hand and let him loose.
Hackin'  is sick and just wrong morally and
is evil driven.
The lowest scum on the planet are hackers.
They seem to think they are cool and that they have something
when they out do each other. In fact the crime should be
punishable by hanging or life in prison. Perhaps, Commute to
15 years in prison if they help catch others.  Without serious
punishment hackers will never fear being caught. They do much
more then cost billions of dollars,
they change the course of progress and ruin lives. They are the
lowest form of spies and anything they seem to think they could
offer society by hacks is actually meaningless and continuous lies.
Demand Justice…give them no quarter…turn them in…